Interview with vocalist Alex Crescioni of Diminished 7
When I sit down to write a review or an article, I always have my studio cans on with some kind of inspirational or beautiful background music piping in my ears to fuel the writing flow. I've made mention of Diminished 7 before on this very site. An up an coming rock/metal band from Los Angeles with a sound that blends the two things that I love most, crunchy metal guitars and melodic vocals. Their newest acoustic release, Hollow Haven (available on iTunes) fits the flow well even when I'm not actually writing about them. The only thing that displeases me is that with only two releases, the aforementioned Hollow Haven and their previous 2009 release, Dim World, my playlist shuffle is depressingly short. I could wax poetic about how this band has wormed its way into my heart, but that would be fairly obvious at this point. But, what you should know is that Diminished 7 is a band worth listening to and worth watching.
With a background in audio engineering and appropriate music school attendance, Alex Crescioni, the front man and vocalist for the band is on his way to doing something most musicians only dream about. At 26, his band has two solid and beautifully recorded releases under their belt just begging for proper label representation.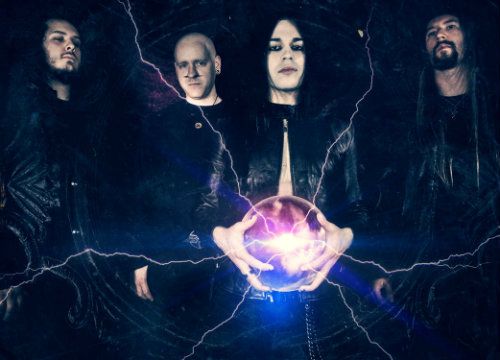 (L to R) Chiyo Mossmann-Bass, William Liermann-Drums, Alex Crescioni-Vocals, Scott Manthei-Guitar
From the opening instrumental of Absorbing Darkness to the last haunting piano track Last Of The Light, Hollow Haven has a beautiful cohesion that reflects its name with melodic haunting vocals, clean classical arrangements and a melancholic feeling of love, longing and elusive hope. The Room's opening, creaking door invites you in and begs to be noticed with beautiful guitar work and equal piano accompaniment. Hours Freeze could easily be a single and has just the right "it" factor for a sentimental fan following. Acoustic versions of tracks from their previous 2009 release, Dim World give new blood to great songs with Midnight Divine being my favorite with Queen In Nuclear Rain battling it out for my ultimate top spot. As a music lover and acoustic guitarist, I highly recommend Hollow Haven. Try something on a more somber note and let Diminished 7 easily find their way into your heart.
I had the pleasure of contacting vocalist Alex Crescioni to pick his brain about his band, background and a few fan girl fun facts about this enigmatic and mysterious singer in his own written words. Be sure to tune into Nocturnal Confessions on December 10th for a live podcast interview with Alex by published author Gabrielle Faust.
Lady~A: Hollow Haven is your second full album release, why do an acoustic album?
Alex: I've always felt a strong connection to acoustic music, and I knew at one point I would want to put out an acoustic record. When you can strum a few chords on guitar and sing a melody and leave the listener with the same feeling, or often times more intense than the original, that really says something about the song. It had been almost three years since the release of the first album "Dim World" so I felt the acoustic album would be a good way to hold fans over before the release of the next full length rock/metal album.
Lady~A: What is your personal favorite track from Hollow Haven and why?

Alex: I'd have to say "The Room". It's the most personal song I've written so far. It describes my descent into depression over past acts of self destruction. Not only do the lyrics reflect this, but the melodies in the verse and pre-chorus through the piano and guitar truly do embody the despair. Also, it was fun creating the sound of a creaking door with the tuners of my classical acoustic guitar and some added effects. It was a spontaneous decision that I'm glad I made.

Lady~A: Your two new tracks Hours Freeze and The Room are very cohesive with each other, was there any particular inspiration for those two songs and will there be rock versions of those tracks on future releases?

Alex: These two new tracks were written back to back while I was in the same creative mindset…I wanted them to have a similar vibe and compliment each other well, with similar melancholic piano melodies. These songs will stay strictly acoustic.
Lady~A: You clearly have a vampire aesthetic to your music. Is that a gimmick or are you actually involved in the vampire community or subculture?

Alex: The closest I come to a vampire is hating the sun and having better functionality at night. I don't ware fangs, perform rituals, or sacrifice humans! It's clear in Dim World there are a few vampire themed songs, but that was a writing phase that I've moved on from.
Lady~A: Many bands have emerged on the vampire idea, Vampires Everywhere, 69 Eyes, HIM, etc. Do you worry about being "typecast"? How do you plan on evolving beyond a pop culture idea especially when it starts to fade? Vampire popularity is very cyclical. We've had a pretty long run…but I see the cycle waning a bit.
Alex: I'm not worried at all. The new music will be much more advanced and lyrical topics will travel to new realms, while of course, still retaining a sense of overall darkness and mystery. It will allow us to appeal to a broader audience than before.
Lady~A: Where do you hope to see Diminished 7 in five years?
Alex: The music industry is extremely different now than it was 10 years ago when I started. All I can hope for is to keep making records and touring with label support. (Hopefully DJs won't fully take over)
Lady~A: What are your most important musical influences?
Alex: Most important, I'd say classical piano, guitar, rock & metal. I grew up listening to lots of theater soundtracks like Les Miserables, The Phantom Of the Opera…also Prince, my mom played all that music A LOT when I was little, so parts of it are definitely embedded into my brain. The bands that really helped develop my sound and style…Korn, Coal Chamber, Deftones, Cradle Of Filth, Katatonia, Cannibal Corpse…lots of early rock, nu metal, and death metal.
Lady~A: For those who don't know…why did you name your band Diminished 7 and can you give us a little insight to the logo design on Dim World? What does it mean to you?

Alex: I always liked the word "diminished" and "7" is my favorite number. Also in musical theory the "diminished 7" chord is my favorite…so it worked out perfectly. The logo design for Dim World is basically my form of a vampire stamp…the logo is an embellished "V" representing the first phase of DIMINISHED 7…Dim World will most likely be the most or maybe only vampiric album.

Lady~A: A fan wanted to ask if you do all the vocal tracks for Diminished 7. You have a clean, melodic style and then a deep growling style especially on Dim World. Is that all you?

Alex: Yes. It's all me.
Lady~A: When did you first start playing music? When was your first band and the name?

Alex: I started playing piano at about 6 or 7..then shortly after I picked up a guitar. I was about 14 when I started my first band…we were called "Threshold" and played quite a few shows, including our Jr. High talent show, friends parties, and our last…a local club in my home town called Club 2000…fun times. We played a number of cover songs from Blink 182 and Kittie…it was odd but fun at the time.
Lady~A: You've mentioned to me that you are also an audio engineer, the recording of Hollow Haven reflects that recording capability. When did you start getting into that? What kind of music education have you had?
Alex: I studied music theory, guitar, and audio engineering at Musicians Institute. I graduated high school then moved to Hollywood right away. I worked at a number of recording studios as an intern during my studies.

Lady~A: What are you working on next? Can you give us a little description of the direction you are wanting to take? Any plans for a tour?
Alex: Next up is writing and pre-production for the next full length album. We will hopefully get into the studio early next year to record it. We will be working with director Matt Zane on the next music video as well. As of now we have no plans for a tour. We will most likely be playing in Austin, Texas for the 2013 Austin Vampire Ball, so we might try and play a couple dates around that gig. Hopefully we can get in one more gig before the end of the year.
Now, for the fan girl questions:

Lady~A: What is your nationality?
Alex: Italian, Assyrian, and Puerto Rican…weird huh?
Lady~A: What are you reading? (gotta lot of book worm fans out there)
Alex: I recently finished Marilyn Manson's book…"Long Hard Road Out Of Hell" couldn't put it down.
Lady~A: What do you use on your hair? (I'm not kidding. People really want to know.)
Alex: Most of the time I don't style or use any products. If I have a gig or photo-shoot, I'll use leave-in conditioner after showering, let it dry naturally, then flat iron…that's it.
Lady~A: How old are you?
Alex: 26, but I still feel 20 =)
Lady~A: What's the craziest rock and roll thing you've ever done thus far?
Alex: I haven't done that much crazy shit thus far. The usual thing in the Hollywood scene is going out to bars…drinking…and going out to bars hah!…have had quite a few blacked out nights and parties…I had a party that lasted almost 3 days at my place back in November 2011…lots of Hollywood friends, booze, gorgeous women, nudity…and other things I shouldn't discuss here (use your imagination) pretty much everything you could want in a party.
Lady~A: What's your favorite way to blow off steam?
Alex: Exercise, long hikes.
Lady~A: What country do you want to play in most?
Alex: Finland would be amazing!
Interviewed by Alex "Lady~A" Savage via email, November 2013.
I would like to personally thank Alex for his time and we here at Lady~A's Vampire Social Club wish Diminished 7 all the best with their growing musical career and I for one can't wait for the next album!